Dear SCT team,
We are having some problems with the registration of epi data to the PAM50 template.
Please find attached an example of our fMRI data (red-yellow) on top of the subject's T1 (greyscale). The brain is in reasonable good alignment but you can see how the end of the spinal cord in the epi massively deviates from the T1.
We register the T1 to the PAM50 template using the standard SCT pipeline suggested in the manual and it works perfectly.
Here is the command that we use to register the epi to the template:
sct_register_multimodal -i $SCT_DIR/data/PAM50/template/PAM50_t1.nii.gz -d epi_moco_mean.nii.gz -iseg $SCT_DIR/data/PAM50/template/PAM50_cord.nii.gz -dseg epi_moco_mean_seg.nii.gz -param step=1,type=seg,algo=slicereg,smooth=3:step=2,type=seg,algo=centermass,slicewise=1,iter=3 -initwarp warp_template2anat.nii.gz -initwarpinv warp_anat2template.nii.gz
this is what we found to be the best set of parameters for our data, but we are not very happy with the results and we were wondering if you believe that given the distortion of our images this is a good approach and/or if you had any other suggestion (e.g. increasing the permitted deformation)?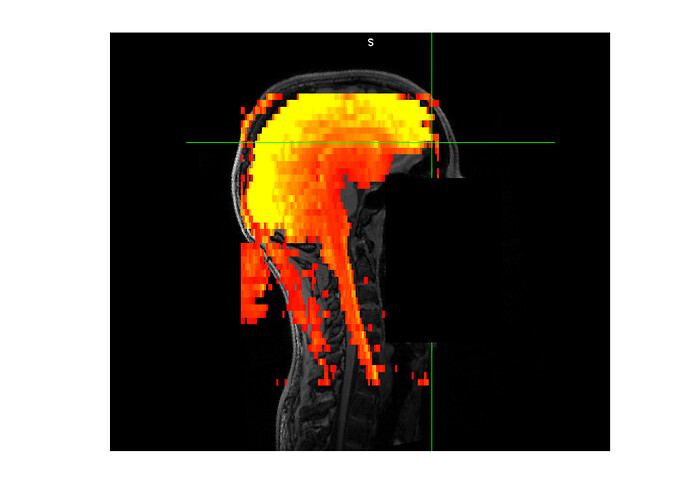 Thank you,
Valeria